StormMeister

The ONLY Flood Door with an Active Flood Seal!
StormMeister Flood Protection Doors, the only flood door fitted with an active flood sealing mechanism maintained by pressure of flood water. Worldwide Patents Applied For, UK Patent Application 1406338.2
Other flood doors use conventional seals which attempt to resist the pressure of rising flood water, StormMeister Doors utilize that pressure in their unique flood sealing mechanism that maintains effective flood resistance long after conventional seals have failed.

StormMeister Flood Protection Doors exceed PAS 1188 the industry standard by some considerable margin, testing at our new testing facility in Preston demonstrates zero leakage at 600 mm flood height with ongoing flood resistance to heights well beyond that.
We are now giving live demonstrations to representatives of the trade, local authorities, and public at our testing facility in Preston, Lancashire which is situated close to M6 Junction 31. Anyone wishing to attend a live demonstration is requested to fill out the form on our Contact Page.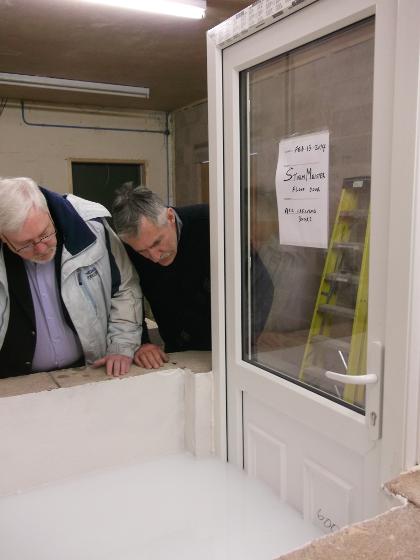 Zero Leakage at 600 mm of water demonstrated under test conditions. Ongoing flood resistance long after conventional seals have failed.

StormMeister Flood Protection Door.
Climate change and increased urban development have resulted in more and more homes becoming at risk of flooding. In the United Kingdom there are approximately 5 Million Homes At Risk Of Flooding, of which 1 Million Homes are at Severe Risk Of Flooding. Owners of at risk homes are increasingly under pressure from insurance companies demanding higher and higher premiums. Where homes are at severe risk of flooding most insurance companies will charge very high premiums or even refuse to provide cover. There are however many things that can be done and installing flood protection for your home is the most obvious. At The Door Factory we manufacture StormMeister Flood Doors the only flood door with a unique Resilient Flood Seal (Patent Pending) which forms an automatic flood resistant seal every time the door is closed. The StormMeister Flood Protection Door has 7 Unique Features which in terms of looks AND protection make it the best value flood door on the market.

StormMeister Flood Doors are manufactured using specially formulated Impact Resistant Plastics tested for impact resistance to BS EN12608 within a temperature range of -40C to +40C maintaining protection in extremes of temperature where standard doors become vulnerable.

Steel Reinforcing all the way around the frame together with steel-on-steel multi-point locking ensures the door cannot be forced open or knocked off its hinges.

Panels of Impact Resistant Plastics with additional reinforcing prevents the panels from being breached by heavy impact whether caused by floating debris or potential intruders.

All panels are security sealed into the door which prevents the panels from being 'popped' out of the door, panels being well known weak-spots in ordinary doors.

Glass inserts in the door panels are either toughened or laminated making them extremely difficult to break.

Flood doors don't need to look like flood doors, StormMeister Flood Door colour options include white, a wide range of colours, and a selection of wood-grain finishes.

StormMeister Flood Doors are manufactured to ISO9002 the International Standard Of Quality and are the only flood door with an Active Flood Seal which maintains a flood resistant seal long after conventional seals have failed.
For more StormMeister Flood Protection Door design options go to our dedicated flood door sites
To arrange a FREE QUOTATION WITHOUT OBLIGATION email your contact details to sales@protectiondoor.co.uk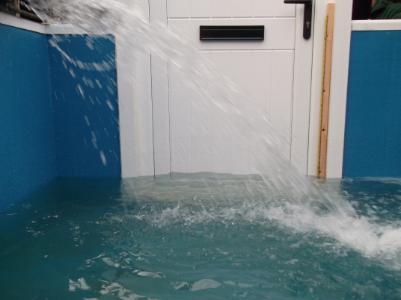 All products extreme tested in simulated real-life situations, for example our Flood Doors are deluged with water in simulated flood conditions.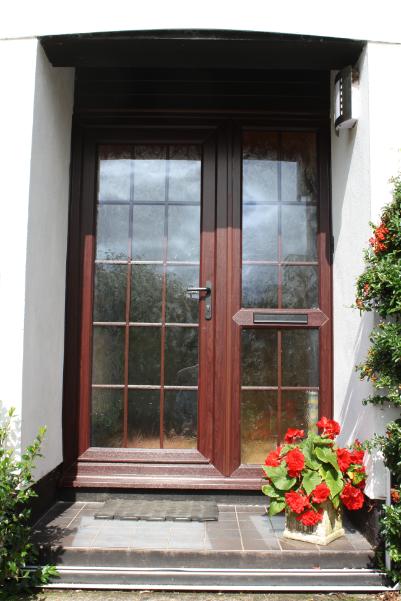 Our Qualifications
Established in 1987 we have years of experience designing, manufacturing, and fitting protection and security door products. Whether it's flood protection or protection from intruders we have the products to make your home secure. Each door we manufacture is constructed from specially formulated Impact Resistant Plastics rigorously tested to comply with BS EN12608 within a temperature range of -40C to +40C. All doors are manufactured to ISO9002 the International Standard Of Quality by our team of dedicated door professionals committed to providing the highest quality protection products on the market. Within the UK mainland on-site surveys are undertaken free of charge without obligation, our experts will advise on the appropriate home protection products for you and as members of the Government Safe Trader Scheme you are assured of no pressure sales tactics. Contact us now on 01772 727 228 or email sales@protectiondoor.co.uk